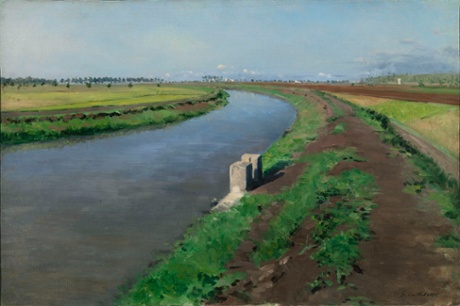 Banks of a Canal - Gustave Caillebotte, 1872
Heaney's choice was Gustave Caillebotte's 'Banks of a Canal' (above) and the result is an evocative calm verse that features his trademark verbal sparkle and pious attention to landscape detail. I just love 'grassy zest of verges' , the declarative 'peaceable' and the surprising accuracy of 'coolth' (a pleasantly low temperature) - don't you? The entire poem is a meditation on calm, beautifully paced and worded, in typical Heaney style. Perfect for an ambling Sunday.
Banks of a Canal - Seamus Heaney
Say 'canal' and there's that final vowel
Towing silence with it, slowing time
To a walking pace, a path, a whitewashed gleam
Of dwellings at the skyline. World stands still.
The stunted concrete mocks the classical.
Water says, 'My place here is in dream,
In quiet good standing. Like a sleeping stream,
Come rain or sullen shine I'm peaceable.'
Stretched to the horizon, placid ploughland,
The sky not truly bright or overcast:
I know that clay, the damp and dirt of it,
The coolth along the bank, the grassy zest
Of verges, the path not narrow but still straight
Where soul could mind itself or stray beyond.