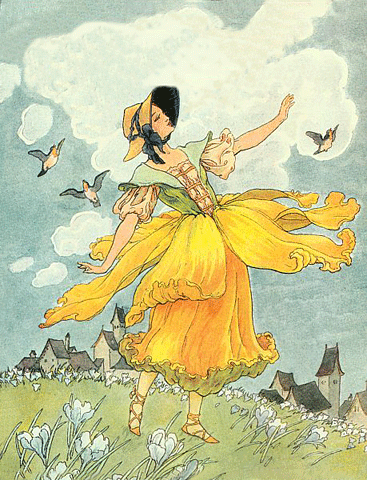 It's daffodil time again! Everywhere their bright yellow heads are popping up, happy harbingers of spring. This amiable nursery rhyme poem (which has been attributed to Mother Goose) captures the heady cheeriness of the daffodil like no other I think. Enjoy!
Daffy Down Dilly
And a bright yellow gown,
And her little white blossoms
Don't it give you a thrill
With the thought of the spring,
Such as once, in your childhood,
The first yellow buttercups
With its glory of leaves,
And the swallows came fluttering
When the bluebird flashed by
And you looked for a fairy
When the clear, running water,
Bore along the bare roadside
And the mornings were fresh
While the sweet summer hush
Always came with the night?
Through the hardening mould,
We feel how earth's blossomings
For the spring-time of heaven!